Farm Doctors' ribbon-cutting ceremony took place on 10/11/2018 at the Malanda Small Farms Field Day 2018. We were honoured with the presence of Queensland Parliament member Mr. Shane Knuth, who highlighted the importance of bringing the latest news in precision agriculture technology to the local farmers on the Atherton Tablelands.
Our staff attending the event, Alistair Hart (CEO) and Fernando Urzedo (CTO), had a wonderful day at the show, exhibiting our service and product portfolio to the diverse public visiting our booth. Apart from farmers interested in our comprehensive workflow for precision farming, spray contractors and natural resource managers showed strong interest in our precision spraying solutions.
Talking about precision spraying, the star of our booth was, off course, the beautiful DJI AGRAS MG-1S spray drone we brought into the show. Visitors could learn more about how Canegrowers Innisfail and Department of Agriculture and Fisheries (DAF) Development Officer Marcus Bulstrode are collaborating to trial precision weed-spraying in cane crops using the DJI AGRAS.
For those who want to watch the video again (or for the first time), please find it on the right. Enjoy!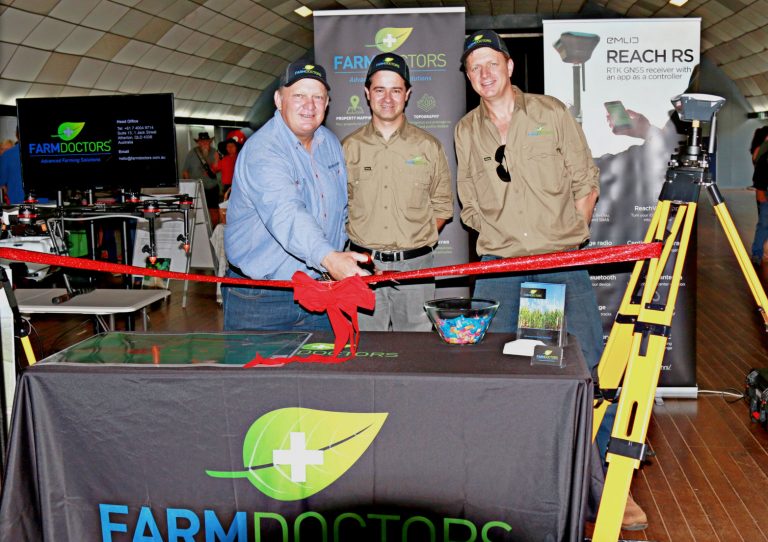 Queensland Parliament member Mr Shane Knuth (left) together with Farm Doctors Fernando Urzedo and Alistair Hart (right), during the official launch ceremony.
Courtesy of Queensland Department of Agriculture and Fisheries (DAF)